Hey Homeschoolers! Feeling overwhelmed about which materials you actually need to teach Montessori Math at home? I'm here to help!

Here is my list (with convenient links, some which are affiliate links) containing all the materials we used in our home to complete the three-year primary work cycle. Keep in mind that you absolutely do not need to buy this all at one time. Observe your child and let that guide you to which materials you should purchase, and when.
Also, this list consolidates all the bead materials needed to save you space and money. If you buy these items, you should have everything you need for all the bead work without redundancy, but you won't be able to have every work available at once on the shelves. I have found this to work perfectly for homeschooling my two.
Did I leave something out that your family loves? Feel free to tell me about it in the comments!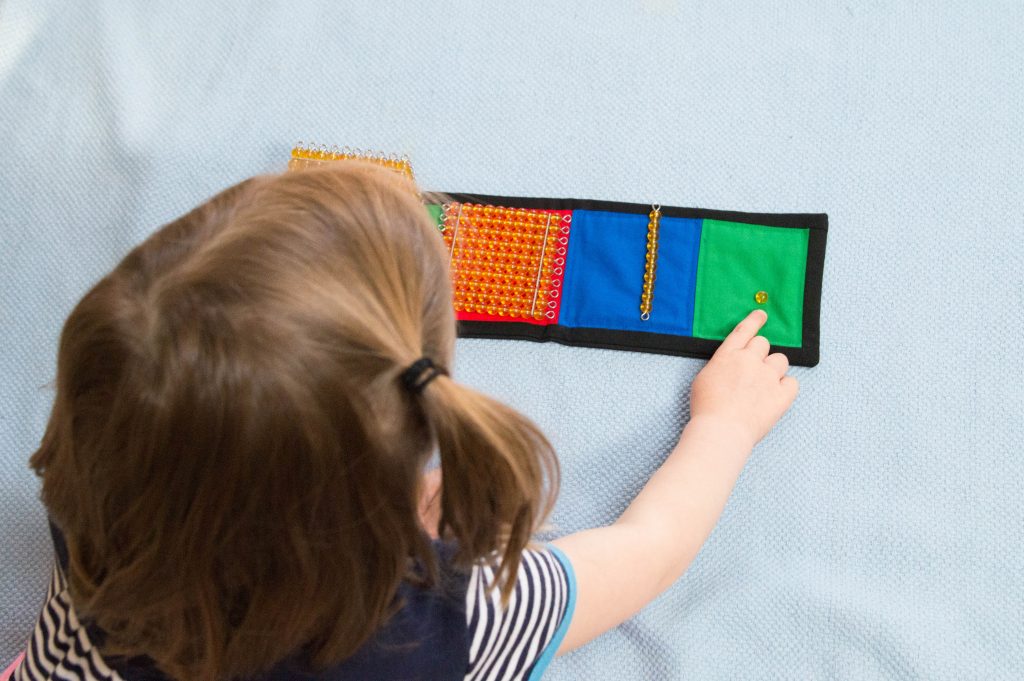 Learning to understand place value using the Golden Bead Material and a Branch to Bloom Introduction Mat.
Homeschool Montessori math list for primary children ages
3-6, and those who are working at this level

Number Rods and cards
Spindle boxes (you could also use a cardboard box or fabric version–check Etsy– and wooden dowels)
Number cards (use these cards with the number rods rods also) and counters.
Hundred board –this link is the traditional wooden material for those who are looking for it. Some children really love this, mine did not. I recommend buying this printable pack instead with fun extensions to make it more interesting. I ended up buying both after my children snubbed the wooden version because it wasn't their thing.
Decanomial Bead Bar Box –buy this and you will have all the beads you need for the bead work with the colored beads in primary–all in one box and for less money. And as a bonus, later you can buy the number tiles to use this as your checkerboard box for early elementary work.
Elementary Negative Snake game (make sure it's not the primary version, you need all these elements for the addition and subtraction snakes in primary, and later, negative snake games in elementary.)
Complete Bead Material (this is the short and long chains with squares and cubes). We chose to forgo the bead cabinet to save money, but it's a nice extra if you can afford it and have space! You'll also want arrows, which you can easily DIY if you're inclined or check on Etsy, I bet someone has made them for you already.
Golden Bead Material You'll use this material to teach a concrete understanding of place value in our decimal system (based on 10). These are used for a very long time, alongside other work, to do addition, subtraction, multiplication and division even into elementary. It's a staple.

35 additional wooden or paper 1,000 cubes–you'll need these if you want to do the birds-eye/45-layout–which my children did over and over and LOVED. (I chose to use just plain wooden craft blocks from a craft supply store for my extra 35 cubes–measure your cubes and find some to match at your local shop.)
Fraction skittles (optional, IMHO, we used them but not very much.)
Teen/Tens boards (Can DIY or use a printable version or just write the numbers on tagboard yourself with a sharpie.)
Addition and subtraction strip boards (can use printable version–see below)
Addition and subtraction work charts (can use printable version–see below)
Racks and Tubes (this set includes the multiplication and division board and is used later in elementary work, so if you're planning to continue after primary, you may as well buy it this way) or if you're not sure, just buy the Multiplication and Division boards (it's less of a commitment and you can always sell them later!)
Multiplication and division charts (can use printable versions–see below)
Work mats/rugs for bead layouts are not absolutely essential, but they are wonderful for keeping all of your manipulatives in order.
Printable work tables and charts for addition, subtraction, multiplication and division from Montessori Kiwi come in this great bundled pack with some other engaging extension materials.